In a career spanning more than eighty years, Maine artist Dahlov Ipcar (1917-2017) wrote and illustrated more than thirty children's and young adult books, starting with The Little Fisherman (by Margaret Wise Brown) in 1945 and including The Cat at Night and My Wonderful Christmas Tree. Dahlov Ipcar was born in Vermont and raised in Greenwich Village. She summered in Maine after her parents (the famed sculptor William Zorach and artist Marguerite Zorach) bought a farm on Georgetown Island in 1923. Thirteen years later, eighteen-year-old Dahlov, an aspiring artist, married Adolph Ipcar. The young couple left New York City in 1937 to live on the Maine farm where they first met. By the early 1940s, Ipcar had nearly given up thoughts of writing and illustrating books, when she was contacted by a New York publisher to illustrate The Little Fisherman. The struggling young artist jumped at the chance, and this charming title helped launch a prolific career that saw her write and illustrate more than thirty children's books of her own.
In 2001, she received The Katahdin Award, a lifetime achievement award from the Maine Library Association, and in 2010, she was awarded the New England Independent Booksellers Association's prestigious President's Award for her outstanding contribution to arts and letters.

$9.86

ISBN: 9780892720323
Availability: Often on our shelves, but if we're out, we can usually restock quickly
Published: Down East Books -
Lobsterman tells the story of a day in the life of a lobsterman's son, working alongside his father.
---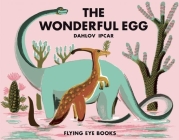 $17.96
Unfortunately, this book is not available to order through us. Please try Powells.com or Biblio.com.
ISBN: 9781909263284
Published: Flying Eye Books - May 13th, 2014
Dahlov Ipcar's classic picture book explores the glorious world of dinosaurs from Brontosaurus to Tyrannosaurus. Fifteen weird and wonderful prehistoric creatures soar, swim, and crawl through Ipcar's striking illustrations in bold and beautiful color which will entice and enthral young readers.
---

$17.95
Unfortunately, this book is not available to order through us. Please try Powells.com or Biblio.com.
ISBN: 9781909263444
Published: Flying Eye Books - April 14th, 2015
In this unheralded civil rights allegory composed in the heat of the early 60s, two little dogs frolic and dream of adventures beyond their wildest imaginations, from jungles of the Congo with towering ebony elephants to the whitewashed, frigid arctic where the icy white polar bears roam.
---