$14.39
ISBN: 9780062935779
Availability: Usually Ships in 1-5 Days
Published: Greenwillow Books - September 1st, 2020
Girl by day. Cat by night. Ready for adventure. In the fourth book of this chapter book series, Kitty, a little girl with catlike superpowers, teams up with another superhero to save a bakery from certain disaster. Kitty and the Treetop Chase is perfect for newly independent readers and for fans of Rebecca Elliott's Owl Diaries.
---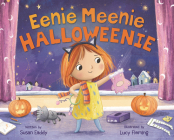 $14.39
ISBN: 9780062691675
Availability: Backordered
Published: HarperCollins - July 14th, 2020
Need a Halloween costume idea? Eenie Meenie has plenty!

In this rhythmic read-aloud picture book, a little girl wonders what she should be for Halloween. Good thing she has a dress-up trunk full of different costume ideas!


Eenie meenie Halloweenie, kitty, bat, or snake? Perhaps a bear? I might just wear a costume that I make!
---

$15.29
ISBN: 9780358193319
Availability: Usually Ships in 1-5 Days
Published: HMH Books for Young Readers - August 4th, 2020
An Amazon Best Book of the Month!

A spellbinding middle grade fantasy about three sisters who go on a quest to break the curse that's haunted their family for generations.​

All Betty Widdershins wants is an adventure—one that takes her far away from Crowstone, the gloomy island where she's always lived.

---

$8.09

ISBN: 9780358175438

Availability: Usually Ships in 1-5 Days

Published: HMH Books for Young Readers - July 14th, 2020

The mystery of the missing pumpkin unfolds in this colorful Halloween board book with decorative pumpkin-shaped holes patterned with foil and glitter throughout.

In this playful Halloween mystery, we follow the trail of the missing pumpkin. Where did it go? Is it in the witch's cauldron? Stuck in a spider web? Or in a trick-or-treat bag?

---

$8.09

ISBN: 9780358063674

Availability: Usually Ships in 1-5 Days

Published: HMH Books for Young Readers - July 14th, 2020

Tow Truck Joe and friends are on a roll to Halloween fun in this rhyming lift-the-flap book by beloved author June Sobel (The Goodnight Train). A companion to Tow Truck Joe.

The cars and trucks of Motor City are dressed up to trick-or-treat in this holiday adventure from the world of Tow Truck Joe.

---

$16.19

ISBN: 9781328766809

Availability: Usually Ships in 1-5 Days

Published: HMH Books for Young Readers - July 14th, 2020

Despite his initial hesitation to invite the new kid, Sam, to his sleepover birthday party, Max quickly discovers that what makes us different makes us special, and new friends can come in all shapes, sizes, and species . . .

---

$5.39

ISBN: 9780358211778

Availability: Usually Ships in 1-5 Days

Published: HMH Books for Young Readers - July 14th, 2020

It's Halloween! Curious George is going to a costume party and has to pick out the perfect costume. Halloween stickers add to the holiday fun.
 
When George and his friend the man with the yellow hat go to a party at Mrs. Gray's house, George is excited to find out that it is a costume party.

---

$16.19

ISBN: 9780735264472

Availability: Usually Ships in 1-5 Days

Published: Tundra Books - September 1st, 2020

When you're a quilt instead of a sheet, being a ghost is hard! An adorable picture book for fans of Stumpkin and How to Make Friends with a Ghost.

Ghosts are supposed to be sheets, light as air and able to whirl and twirl and float and soar. But the little ghost who is a quilt can't whirl or twirl at all, and when he flies, he gets very hot.


---

$18.89

ISBN: 9780593125281

Availability: Usually Ships in 1-5 Days

Published: Random House Graphic - September 1st, 2020

There's a new witch in town! Life in Brooklyn takes a strange turn when Effie discovers MAGIC runs in the family.

A middle-grade graphic novel adventure filled with magical hjinks for fans of Phoebe and Her Unicorn and Making Friends.

Could there really be witches in Brooklyn?!


---

$15.29

ISBN: 9781623541187

Availability: Usually Ships in 1-5 Days

Published: Charlesbridge - August 4th, 2020

Best-selling illustrator Lynn Munsinger (Tacky the Penguin, What Mommies/Daddies Do Best) puts pumpkins and autumn center stage in this rollicking take on the classic song, We're Going on a Bear Hunt.


---

$15.29

ISBN: 9781534466968

Availability: Usually Ships in 1-5 Days

Published: Simon & Schuster/Paula Wiseman Books - July 21st, 2020

"Lucky kitten, lucky readers: a sweet, special Halloween story." —Kirkus Reviews (starred review)
"This gentle story is a sweet option for a Halloween read-aloud and will please young feline fans any time of the year." —Booklist

From beloved author-illustrator Nicola Killen comes a charming autumnal story about a

---

ISBN: 9780060252717

Availability: Special Order

Published: HarperCollins - March 14th, 1984

Creak...
Crash...
BOO!

Shivering skeletons, ghostly pirates, chattering corpses, and haunted graveyards...all to chill your bones! Share these seven spine-tingling stories in a dark, dark room.

---

$15.99

ISBN: 9781452125336

Availability: Usually Ships in 1-5 Days

Published: Chronicle Books - August 1st, 2017

Herbert is deeply doubtful about his first Halloween—but with a little help from his dad and a special tiger costume, Herbert might just find confidence on Halloween night. Together, father and son practice roaring, carve a pumpkin, and venture out in search of candy. And by the end of the night, Herbert finds his doubts have melted away.

---

$6.29

ISBN: 9780439079464

Availability: Backordered

Published: Scholastic Paperbacks - September 1st, 1999

From Dav Pilkey, creator of the New York Times bestselling Dog Man and Captain Underpants series, comes Oscar, a little dog with a big bullying problem.

---

$15.29

ISBN: 9781452131566

Availability: Usually Ships in 1-5 Days

Published: Chronicle Books - August 25th, 2015

A New York Times Best Illustrated Book of 2015
You would like being friends with Leo. He likes to draw, he makes delicious snacks, and most people can't even see him. Because Leo is also a ghost. When a new family moves into his home and Leo's efforts to welcome them are misunderstood, Leo decides it is time to leave and see the world.

---

$7.19

ISBN: 9780142501122

Availability: Usually Ships in 1-5 Days

Published: Puffin Books - August 25th, 2003

This fun family read-aloud is a story of quick wits, friendship, and inclusivity from the creators of The Gruffalo! 


---

$16.19

ISBN: 9781534413627

Availability: Usually Ships in 1-5 Days

Published: Atheneum Books for Young Readers - July 24th, 2018

From the critically acclaimed author and illustrator of A Hungry Lion comes a unique Halloween story about a stemless pumpkin who dreams of becoming a jack-o-lantern.

Stumpkin is the most handsome pumpkin on the block. He's as orange as a traffic cone! Twice as round as a basketball! He has no bad side!

---

ISBN: 9781101919019

Availability: Special Order

Published: Tundra Books - September 5th, 2017

What do you do when you meet a ghost? One: Provide the ghost with some of its favorite snacks, like mud tarts and earwax truffles. Two: Tell your ghost bedtime stories (ghosts love to be read to). Three: Make sure no one mistakes your ghost for whipped cream or a marshmallow when you aren't looking!

---

$17.09

ISBN: 9780062475763

Availability: Usually Ships in 1-5 Days

Published: HarperCollins - September 3rd, 2019

A Junior Library Guild Selection | An Indie Next List Pick | An Amazon Best 3-5 Books of 2019 Selection

"An emotionally impactful exploration of love and loneliness, this is an essential addition to any picture book collection." —School Library Journal (starred review)

---

$5.39

ISBN: 9781481497671

Availability: Backordered

Published: Little Simon - July 25th, 2017

Pookie gets dressed up for Halloween in this silly board book from beloved and bestselling author and illustrator Sandra Boynton.

It's Halloween! What will little Pookie decide to be this year? Pookie tries on costumes one by one, but somehow can't find just the right thing. The resolution to Pookie's dilemma will delight toddlers and their caregivers alike.

---