Karin Gottshall grew up in Michigan. She earned a BA at Sarah Lawrence College and an MFA at Vermont College. Her first poetry collection, Crocus (2007), won the Poets Out Loud Prize and was published by Fordham University Press. Her poems introduce beautifully strange yet familiar worlds. She lives in Vermont and teaches at Middlebury College.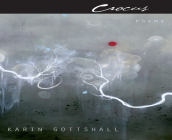 $29.70

ISBN: 9780823227310
Availability: Available to order! Either on hand or in quickly.
Published: Fordham University Press - April 15th, 2007
Whether

Aligned with the mechanism
whereby the spirit is borne aloft
through song comes again the question: whether. And not soothed
so much as opened by the boy
soprano's Sanctus, what moves in the mind as the throat constricts
in sympathy, one note peeled
from the last, fine as paper slipped
---

$17.95
Unfortunately, this book is not available to order through us. Please try Powells.com or Biblio.com.
ISBN: 9780814251898
Published: Ohio State University Press - December 10th, 2014
Haunting and haunted, The River Won't Hold You interrogates loneliness and loss with quiet insistence.
---