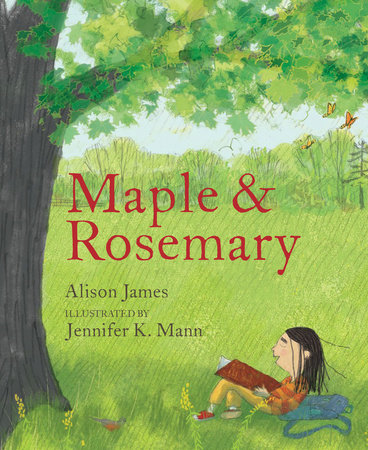 Hooray for Alison James and Jennifer K. Mann's new picture book, Maple and Rosemary!
If you've ever had dubious thoughts about The Giving Tree (beloved but a little problematic upon reflection, given its one-sided martyrdom of the tree), you'll be delighted by the give-and-take friendship of Maple and Rosemary through the years. Alison James' lyrical language and Jennifer K. Mann's beautiful art are a perfect match.
★ "James' gentle, straightforward prose is striking in its simplicity, capturing the strangeness and joy of new friendship as well as the ache of loneliness. . . . Mann's sweeping, digitally collaged landscapes glow in a warm welcome to young viewers, with a combination of painterly and penciled textures bringing depth. . . . Honors the depth and longevity of friendship, even with the inevitability of loss." --The Bulletin of the Center for Children's Books, Starred Review
Alison James (pictured left) has published two picture books and two novels for young adults. Her latest picture book, Maple and Rosemary, illustrated by Jennifer Mann, will come out with Neal Porter at Holiday House in 2023. She has translated more than 150 books for children. Alison lives with her musical family in northern Vermont.
Jennifer K. Mann (at right) was an architect before turning to children's books full time. Her most recent book, The Camping Trip, has received four starred reviews. She is also the creator of the picture books Josie's Lost Tooth, Sam and Jump, Two Speckled Eggs, and I Will Never Get a Star on Mrs. Benson's Blackboard. Jennifer K. Mann lives on an island near Seattle with her husband, children, cats, dogs, and chickens.

$17.09

ISBN: 9780823449675
Availability: Available to order! Either on hand or in quickly.
Published: Neal Porter Books - February 28th, 2023
A touching story about a sugar maple tree who finds a lifelong friend when a young girl comes to seek comfort in its branches.

---