Thacher Hurd was born in Vermont, but has lived in California for most of his life. He graduated from the California College of Arts and Crafts with a degree in painting. He has written and illustrated more than 25 books for children, among them Mystery on the Docks and Mama Don't Allow, both of which were Reading Rainbow Feature Selections. Mama Don't Allow also won the Boston Globe Horn Book Award. He also wrote and illustrated Art Dog, Moo Cow Kaboom, Sleepy Cadillac, and most recently Bad Frogs. He collaborated with Elisa Kleven on The Weaver, which was published in 2010. He has also written and illustrated two board books, one of which, Zoom City, was a New York Times Best Illustrated Book of the Year. In 1983 Thacher and his wife Olivia founded Peaceable Kingdom Press, a publisher of cards and posters from children's books. He lives in Berkeley, California and spends his summers in Vermont.

$7.99
ISBN: 9780694010578
Availability: Usually Ships in 1-5 Days
Published: HarperFestival - January 3rd, 1998
For active toddlers exploring their world, this energetic book bursts with the noisy sounds children love to imitate.Honk! Honk! Beep! Beep! Zoom City zooms with cars—and dogs!— on the go. Active toddlers, busy exploring their world, will love this energetic book that's filled with the noisy sounds they love to imitate.

Honk! Honk! Beep! Beep!
---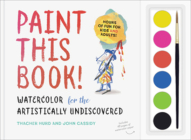 $22.46
ISBN: 9781615193875
Availability: Usually Ships in 1-5 Days
Published: The Experiment - May 2nd, 2017
Put the brush in your hand. Stick it in the water, then smush it around in one of the colors. Now take a deep breath and plop it down on the page . . .

You're an artist.

Yes, really! Young or old, there is an artist in each of us. If yours is hiding (perhaps behind a shred of self-consciousness?), just remember: Art is personal expression.

---

ISBN: 9780064451987

Availability: Special Order

Published: HarperCollins - May 3rd, 2000

Starfish have arms, but no legs. They have feet, but no toes. Starfish aren't fish, but they are living animals.

---

ISBN: 9780064434898

Availability: Special Order

Published: HarperCollins - December 17th, 1997

Oh, no! Someone has stolen the Mona Woofa from the Dogopolis Museum of Art and the police don't even realize that they are barking up the wrong tree when they collar their number one suspect. So it's up to Art Dog, the mysterious, masked painter who roams the streets of Dogopolis, to find the missing masterpiece. Zip! Splash! Smoosh!

---

$8.99

ISBN: 9780064430586

Availability: Backordered

Published: HarperCollins - August 12th, 2008

Ralph, the opera-loving short order cook at the diner on Pier 46, helps to save his favorite singer from the clutches of tough rat kidnappers. 'Brisk, entertaining melodrama.

---